Moover Baby Walker
A toy to support the baby's first-steps stage
Moover Toys' Baby Walker is both a fun and perfect helper when small children are about to learn how to walk. Designed in such a way that the first steps are made safely – and at the child's own pace. As a result, learning how to walk becomes a very happy experience for the child as well as the parents.
Video Section, If you like your private moover video to be showed on moover web site. Please email us the YouTube link to you video to info@moovertoys.com we happy to include more videos. Thanks.
Building Moover Baby Walker
Uploaded 8. July 2014
Total Views :744
Moover Baby Walker
Uploaded 8. July 2014
Total Views :638
Moover Baby Walker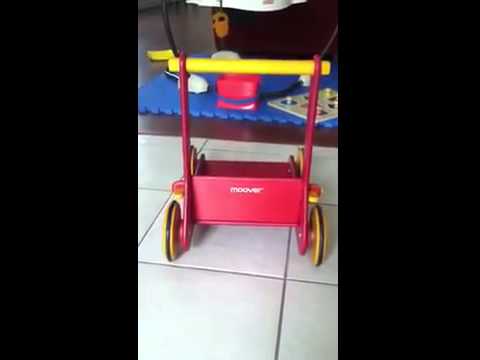 Uploaded 29th April 2015
Total Views :317
Play & Learning
Safety is the key word when a child is about to take the first steps and this is where Moover Toys' Baby Walker fulfils the child's need for support.
Safety
Double wheel brakes ensure that the Moover Toys' Baby Walker moves slowly and therefore stays with the child. The positioning of the wheels and handles are carefully designed so the walker is 100% stable, under all conditions. The shock absorbing rubber wheels ensure that Moover Toys' Baby Walker stands firmly and securely. Furthermore, the rubber wheels work like "bumpers" protecting the door frames and walls of the home. The Baby Walker's features are designed to be used as a toy cart after the initial walking stage.
Colour
Red with yellow wheels, natural with red wheels
Dimensions
45 x 43.5 x 31 cm (17 3/4 x 17 x 12 1/2") 2,100 kg (4 7/8 lbs)
Age Group
8 - 48 months
Design
Kåre Tofte
EAN Codes
red – 5708062888011
natural - 5708063088886
For your child's safety
Moover Toys' products comply with the mandatory product safety requirements of the EU member states as well as Iceland, Norway and Switzerland; North America; Australia/New Zealand and other APEC Countries. Moover Toys are tested by internationally accredited testing laboratories. These specifications are covered by:
ASTM F963 – 11 / CPSIA
EN71
SOR/2011
AS/NZS ISO 8124
Moover Toys' products are reviewed and assessed at the designer stage and are further routinely tested at the shipment stage to safeguard the integrity of all Moover Toys' products.
Facebook Like Box
Instagram Photos